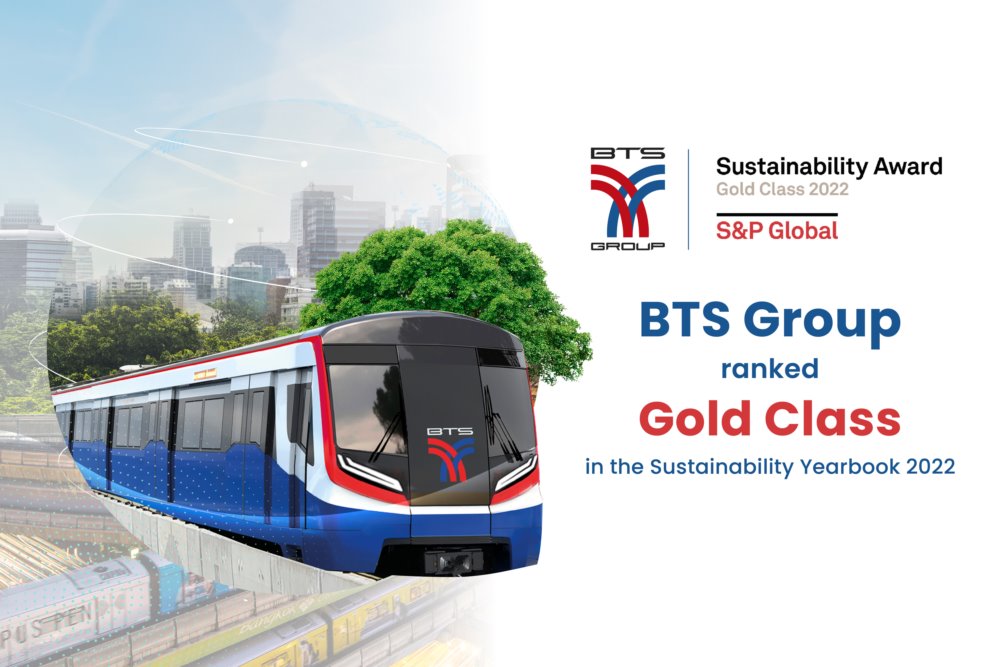 BTS Group Holdings Public Company Limited (BTS Group) has been awarded a "Gold Class" distinction in the global Transportation and Transportation Infrastructure sector, the highest designation in the sustainability ratings as assessed by S&P Global, in the Sustainability Yearbook 2022. Every year, S&P Global assesses the sustainability practices of major companies worldwide covering the environmental, social and governance (ESG) aspects. It then classifies those selected for outstanding sustainability efforts by granting Gold, Silver, and Bronze Class awards in each industry group. S&P Global evaluated approximately 7,500 companies in 61 industries worldwide this year, and the Gold Class includes 75 companies, which are the top 1% of the companies evaluated.
The Sustainability Yearbook 2022 lists 75 Gold Class, 89 Silver Class and 106 Bronze Class companies. In total, there are 41 Thai companies that have been listed in the Sustainability Yearbook 2022, placing Thailand fourth among 44 countries. Of these, 8 Thai companies received the Gold Class designation and BTS Group is the only rail transportation company to be selected. The top 3 countries represented in the Sustainability Yearbook 2022 are: the United States with 111 listed companies, followed by Japan with 83 listed companies, and South Korea with 43 companies.
The Company is committed to the implementation of the highest ESG standards under its 3M ("MOVE", "MIX" and "MATCH") Strategy. Through its electrified rail business, it enables customers to travel on carbon-free transportation, reducing pollution and road traffic congestion. The Company continues to expand its rail network and expects the partial opening of its Pink and Yellow monorail lines within this year. It is also expanding into other forms of transportation under its "door-to-door" MOVE business.