Trial operations of Pink & Yellow Line Monorail Projects begin to prepare for the service launch in 2022
Back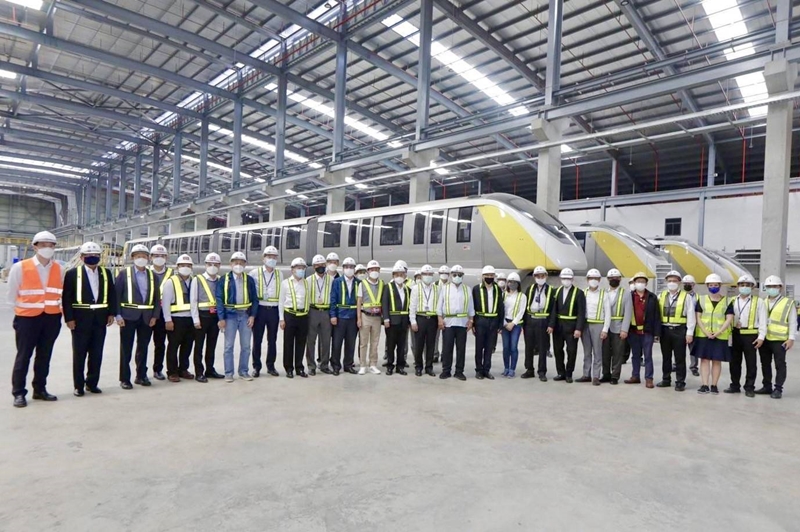 On December 1, 2021, at the depot of the Yellow Line Monorail Project, located at Srinakarin Road, Mr. Keeree Kanjanapas, BTS Group Chairman, led members of the board of directors and executives, together with directors and management team from Northen Bangkok Monorail Company Limited (NBM); Eastern Bangkok Monorial Company Limited (EBM); Sino-Thai Engineering and Construction Public Company Limited; and Rath Group Public Company Limited, to attend the trail runs of the Yellow Line Monorail Project starting from its Depot to Sri Nut (Y13).
The Yellow Line Monorail Project, Lat Phrao – Samrong section, covers a total distance of 30.4 kilometers with 23 stations. The Pink Line Monorail Project, Khae Rai – Minburi section, covers a total distance of 34.5 kilometers with 30 stations. The two-line projects is targeted to be launched in 2022.
For the construction works of the Yellow Line project, it has been completed 86% in overall. Meanwhile the Pink Line Project has been completed its contructions of 82% in overall.
The service of the two-line projects will be periodically launched respectively as below.
The Yellow Line Monorail
First section: Phawana station (YL02) to Samrong station (YL23)
Second section: Lat Phrao station (YL01)
The Pink Line Monorial
First section: Government Complex station (PK12) to Minburi station (PK30), except Nopparat station (PK26)
Second section: Royal Irrigation Department station (PK05) to Chaeng Wattana 14 station (PK11)
Third section: Khae Rai station (PK02) to Nonthaburi Civic Center station (PK01)
For train cars for Pink & Yellow Lines, 33 trains with 132 cars in total were delivered, split into 20 trains with 80 cars for the Yellow line and 13 trains with 52 cars for the Pink line. The delivery of total 30 trains with 120 cars of Yellow Line are targteted to be completed in April 2022; meanwhile total 42 trains with 168 cars of Pink KIne in June 2022.