BTS Group has been selected as DJSI member for the fourth consecutive year, ranking first globally in the industry for two consecutive years
Back
as well as the third-time inclusion in the THSI list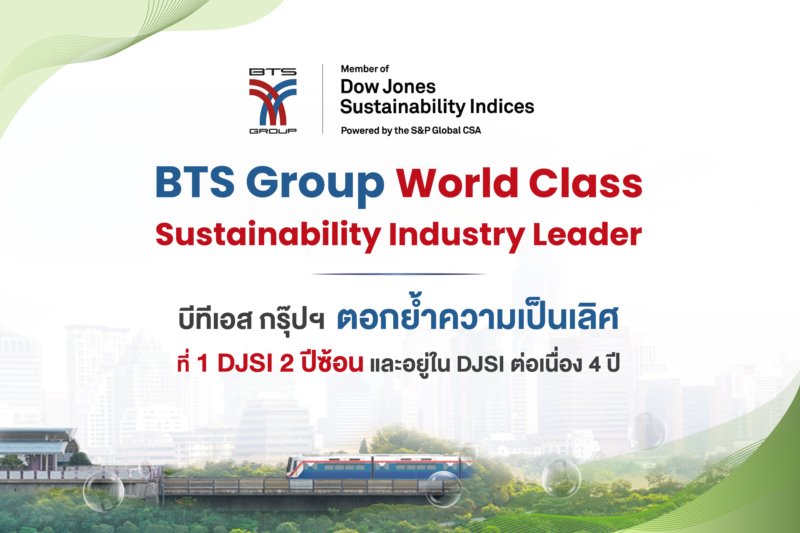 On 13 November 2021, BTS Group Holdings Public Company Limited or BTS Group has been selected as an index constituent of the Dow Jones Sustainability Indices (DJSI) 2021 in the DJSI Emerging Markets or DJSI EM for the fourth year running. From this year's evaluation, BTS Group remains the only Thai rail transportation company ranked amongst world class DJSI Index members. In addition, this is another year that the Company is also ranked first globally in the Transportation and Transportation Infrastructure Industry. These achievements are a strong endorsement of BTS Group's sustainability efforts, which are set to align with the strictest domestic and international standards.
Further, on 15 November 2021, BTS Group was selected by the Stock Exchange of Thailand to be a member of the Thailand Sustainability Investment List (THSI) 2021 as a third-time member in the Service category. This reflects the commitment of BTS Group to create and operate sustainable businesses, as well as to focus on responsibility for the environment, society and governance (ESG) aspects for the ultimate benefit of all stakeholders.
Mr. Keeree Kanjanapas, Chairman of BTS Group and the Sustainability Committee stated that "this is an outstanding achievement of the Company and the country being acknowledegd for excellent corporate ESG performances and showcasing Thailand's progress in sustainable development. Furthermore, this recognition marks BTS Group's strong commitment to sustainable business practices in line with the UN Sustainable Development Goals and management disciplines during challenging period".
The Dow Jones Sustainability Indices or DJSI, under the collaboration between S&P Global and SAM, are a family of indices evaluating the sustainability performance of corporates, broadly recognised worldwide. The evaluation aims to ensure companies' commitment to management disciplines, which
have been demonstrated in prudent financial and investment practices, sustainable management policies and viable business progression, covering all three sustainability dimensions; ESG as well as responsibility for all stakeholders. In 2021, over 5,300 companies in over 60 industries across the world were invited to participate in SAM's Corporate Sustainability Assessment (CSA).
The THSI contains listed companies that operate sustainable businesses with due regard for ESG best practices. It is another factor for investors to consider, as it takes into account ESG elements into their investment decisions along with analysing the company's financial data.