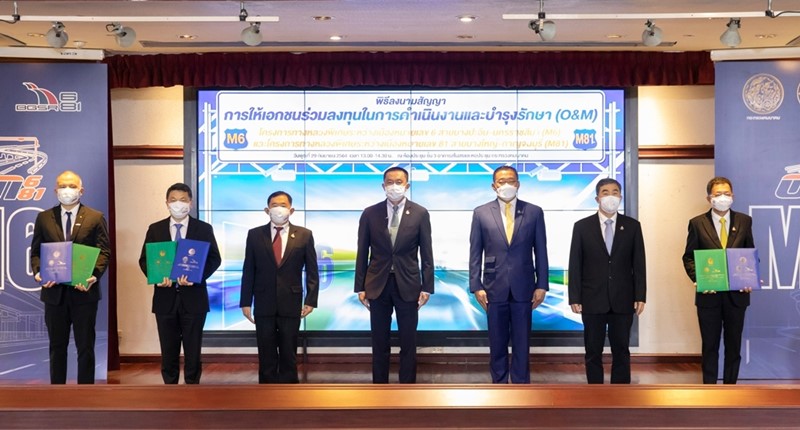 BTS Group Holdings Public Company Limited (BTS Group or the Company) continues to execute on its "3M" (MOVE, MIX and MATCH) business strategy.
On 29 September 2021, BTS Group expanded its MOVE network further beyond rail, following the signing of the Operation and Maintenance (O&M) contracts for two Intercity Motorway routes. Together the BGSR Joint Venture (BGSR JV), which comprises BTS Group (40%), Gulf Energy Development Public Company Limited (shareholding 40%), STECON Sino-Thai (10%), and Ratch Group Public Company Limited (10%), signed the PPP Agreement with the Department of Highways (DoH) to for Intercity Motorway No.6 (Bang Pa-In – Nakhon Ratchasima) Project (M6) and Intercity Motorway No.81 (Bang Yai – Kanchanaburi) Project (M81) covering a 30 years term.
Mr. Surapong Laoha-Unya, CEO of MOVE business, stated that "this is Thailand's first PPP scheme for a motorway development project and part of an extensive plan of national motorways to be developed in the coming years. The BGSR JV will operate & maintain both M6 and M81 for the DoH and is expected to begin on-site construction within this year. The BGSR JV will receive revenue from providing O&M services and construction repayment, totaling approximately THB 39 billion, consisting of THB 21.3 billion from M6 and THB 17.8 billion from M81 from the DoH throughout the 30-year concession contract."
The two routes are scheduled for trial operations from October to December 2023 and will commence official operations in early 2024. The contract is divided into 2 phases: Phase 1 lasting no more than 3 years. The BGSR JV will design and invest in the construction and installation of systems and related components. This includes construction of toll booths and installation of the Free-Flow intelligent toll collection system, an intelligent traffic control and management system, a fibre optic communication network system, electricity distribution systems throughout the motorways, as well as construction of the central control building and office buildings. The BSGR JV will be responsible for O&M services as well as traffic management and control, which includes around-the-clock emergency rescue in Phase 2, for 30 years after the motorways commence operations.
"This is another important step for BTS Group in expanding its border "beyond rail" and aligns with its MOVE strategy. Additionally, we will provide seamless driver experience that caters road users' needs in the digital era. The installed Free-Flow intelligent toll collection system will help reduce physical contact according to new normal hygienic practice guidelines. Holistically, these two routes will be major logistical routes to northeastern, western, and southern provinces, providing efficient linkage to major production and export bases and supporting the Ministry of Transport's megaprojects in the future." claimed Mr. Laoha-Unya.
BTS Group's MOVE network provides convenient and safe door-to-door transportation solutions to customers via multi-modal transportation. It currently comprises of BTS SkyTrain, Chao Phraya Express Boat, Bus Rapid Transit (BRT), U-Tapao International Airport (under development) and most recently, the Intercity Motorway. Under the Company's MATCH strategy, it seeks to join forces with its partners to amplify the Company's value and to capture upcoming growth opportunities.