BTS Group jointly establishes the Carbon Markets Club, promoting carbon credit trading to help reduce greenhouse gases towards a Net Zero society
Back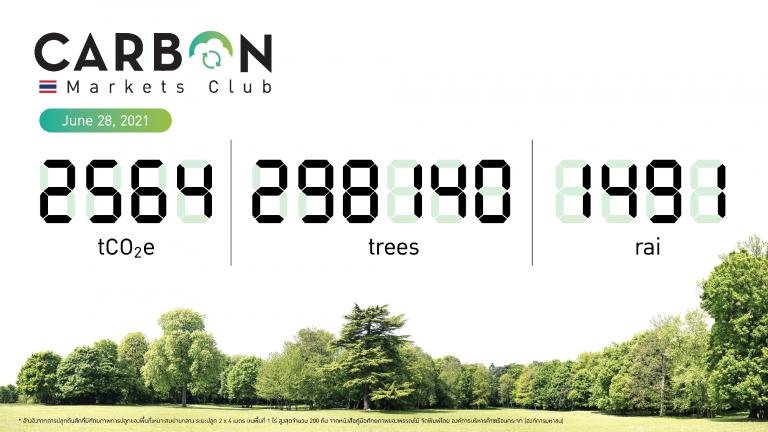 On 28 June 2021, BTS Group Holdings Public Company Limited, along with 10 organisations, jointly established "the Carbon Markets Club". A first for Thailand, the club supports carbon credit and Renewable Energy Certificate (REC) trading to reduce greenhouse gases towards a Net Zero society.
The online MOU signing ceremony among the Club's eleven founding members brings together leading Thai organisations who have committed to reducing the effects of carbon emissions through carbon trading. The founding member organisations are: BTS Group Holdings Public Company Limited, Bangchak Corporation Public Company Limited, Electricity Generating Authority of Thailand (EGAT), BCPG Public Company Limited, BBGI Public Company Limited, Charoen Pokphand Group Company Limited, Shell Company of Thailand, KASIKORNBANK Public Company Limited, Bank of Ayudhya Public Company Limited, Tetra Pak (Thailand) Company Limited, and Bangkok Industrial Gas Company Limited.
Mr. Daniel Ross, Chief Investment Officer and Head of the Sustainability Department of BTS Group, stated that "the effects of climate change have brought together many countries to limit the increase of the global average temperature to no more than 1.5 – 2 ºC according to the Paris Agreement. The transition from use of fossil fuels to green or renewable energy sources is the most important action needed to help tackle this issue, yet they are not happening fast enough. While the development of green innovation or technology still requires more resources, financial or otherwise, from both the private sector and government, BTS Group agrees that carbon trading can be an important interim step to help remediate this issue. The establishment of the Carbon Markets Club today will help us prepare for challenges and new kinds of trade opportunities."
Mr. Ross also mentioned that "we, at BTS Group, are conscious of the effects of climate change on global warming. This urgently needs to be addressed in order to achieve tangible results as soon as possible. BTS Group embraces UN SDG 13: Climate Action as one of our core missions, which also includes policies that will help us decarbonise the transportation sector in Thailand."
The founding members of the Carbon Markets Club have committed to support, raise awareness, and promote carbon credit trading through both the Thailand Voluntary Emissions Reduction Programme (T-VER) run by the Thailand Greenhouse Gas Management Organisation (TGO) and the REC scheme run by EGAT. They have set out to develop the current over-the-counter mode of trade into a digital platform that is convenient, supports e-registration with registration and accreditation agencies, promotes e-carbon trading, and integrates Blockchain trading technology.
In addition, the Club was congratulated by executives from the Stock Exchange of Thailand (SET), The Federation of Thai Industries (FTI) and the TGO, who will help support the future participation and growth of the network to include listed companies and companies in the Federation of Thai Industries from numerous sectors.