BTS Group is ranks its Sustainability Performance in "SAM Gold Class" distinction, assessed by S&P Global, announced in The Sustainability Yearbook 2021
Back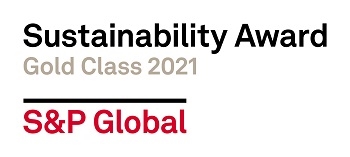 BTS Group Holdings Public Company Limited was ranked "SAM Gold Class" distinction, for Transportation and Transportation Infrastructure Industry, assessed by S&P Global. This ranking has been announced in The Sustainability Yearbook 2021, in which provides the ranking of the 630 sustainability leaders selected, based on their S&P Global ESG Scores, from over 7,000 companies assessed worldwide.
BTS Group is considered as DJSI world class Sustainability Leader 2021 and the only Thai rail transportation Company ranked amongst world class DJSI Indices members. This is a proud achievement of the Company's commitment to management disciplines, which have been demonstrated in our prudent financial and investment practices, sustainable management policies and viable business progression, covering all three sustainable dimensions; Economics, Social and Environmental as well as responsibility for all stakeholders.
S&P Global, a sustainability investment specialist, has partnered with the Dow Jones Sustainability Indices (DJSI), to assess the sustainability performance of companies around the world in 61 industry segments. Each year, S&P Global is ranked in the annual Sustainability Yearbook, which is considered the highly credible global resource for corporate sustainability.