BTS Group Holdings unveils its new business model with ''Abstracts'' brand building in property development to mobilise profitability for various target groups under the ''City Solutions'' co
Back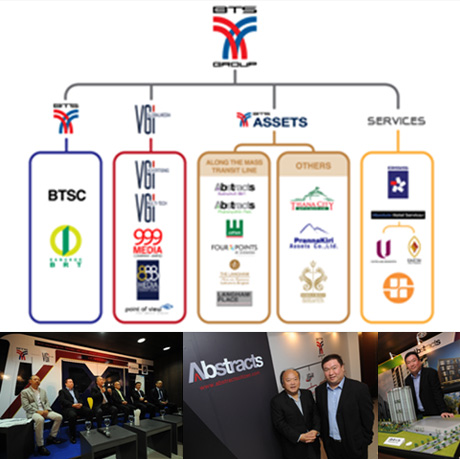 Bangkok – BTS Group Holdings Pcl. moves forward at full speed with the launch of its new business model along with the 'Abstracts' brand building in property development category. Harmonising its 4 new businesses structure for potential optimisation in response to "City Solutions" concept, the company aims to penetrate 3 major targets comprising consumers, investors and joint ventures with confidence to draw their attention and value added offering for each target group.
Mr. Keeree Kanjanapas, Chairman of BTS Group Holdings Pcl., reveals that "Prior to the accomplished takeover of Bangkok Mass Transit System Pcl. and the company's title changed to BTS Group Holdings Pcl., the company unveils its new business model divided into 4 business structures including 1.) Mass transit system business that combines the existing BTS Lines and its extension projects in the future in addition to the concession of the Bangkok Rapid Transit (BRT) management 2.) BTS route map media on stations advertisement in train and other huge modern trade merchandising space such as Tesco Lotus, Carrefour, Big C, Watson as well as advertising space in office buildings 3.) Property development business which combines both property development along the BTS Lines and property development business in other prime areas such as Thana City Bang-na Trad km. 14, Kao Yai and Phuket 4.) Services business such as hotel management business, construction business and e-money business on the common ticketing system development in cooperation between the BTS Skytrain, MRT Subway and the BRT that can be extended into other mass transit systems including retail business, services business and tourism. This service system is expected to be provided in the mid-2011. The common ticketing system has been accepted and successful in many countries."
"The company anticipates these 4 business operations would bring about mutual profitability to serve quality livings to Bangkok residents today and in the future. Subsequently, the company builds the "Abstracts" brand in the property development business by appointing it to be in favor of the 3 major target groups encompassing consumers who are in need of residence along the BTS Lines, investors who want to invest in residential renting business in the projects operated by the Abstracts and joint venture groups including land owners who would like the Abstracts to develop their vacant land plots or even property developers who already own their property projects. All of these groups can join the "Abstracts" for ultimate benefits as well" stated Mr. Keeree.
Mr. Kavin Kanjanapas, Managing Director of BTS Group Holdings Pcl, additionally mentions the benefits from the "Abstracts" such as the privileged BTS card allowing traveling service consumption in the pilot mass transit system of the BTS Skytrain for over 10 years free of charge. This common card is deemed a privilege that belongs to the owners of the "Abstracts" project, who can profit from the common card themselves or by transferring the right to their renters and the others."
Mr. Kavin continues that "Property development under the Abstracts brand is basically based on the launch of 2 first projects worth more than Bt10 billion, including "Abstracts Phahonyothin Park", a modern condominium with a triple building of 34 floors with a number of 3,000 units. Its first phase is expected to complete in 2011. And "Abstracts Sukhumvit 66/1" located at Sukhumvit 66/1, 250 metres near the Udomsuk BTS Station, a low-rise sophisticated condominium in modern style, has 5 floors with 4 buildings and a total of 112 units. It's expected to finish in June 2011."
"These 2 projects are conducted under the cooperation between the company and a Hong Kong leading construction affiliate called Hip Hing Construction (Thailand) Co., Ltd. These 2 projects have different, outstanding characteristics that are better than other wide ranges of condominium projects: apart from their locations near the Bangkok mass transit including both the BTS and the MRT, their decoration and design dominantly ground on functionality by collaboration with experts in interior design and decoration exclusively for each project such as Spa+A Co., Ltd. which obtain an international interior architectural design award in resort and hotel category to join the design of the Sukhumvit project. Essentially, the "Abstracts" will offer 10-year ownership of BTS card, which is considered the most striking marketing strategy. The company is confident that it can expand its fast growing business like the "U Hotel" brand that has grown with 38-branch expansion all over the region." finally stated Mr. Kavin.