BTS GROUP HOLDINGS AS DJSI EMERGING MARKETS MEMBER FIRST AND ONLY THAI COMPANY IN THE RAIL TRANSORT INDUSTRY
Back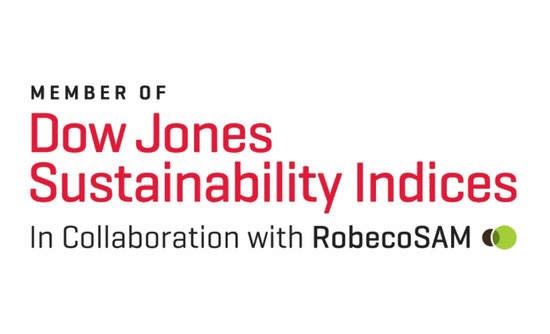 Bangkok – BTS Group Holdings Public Company Limited (BTS), the preeminent mass-transit services provider in Thailand and a privately-owned conglomerate, has been officially selected by the Dow Jones Sustainability Indices (DJSI) Emerging Markets 2018 as the first-time member in the Transportation category.
Mr. Kavin Kanjanapas, Chief Executive Officer, BTS Group Holdings PLC proudly revealed, "I am exceptionally pleased for BTS Group to be a privileged member of DJSI Emerging Market for the first time. This is a proud achievement of the company's commitment to management disciplines, which have been demonstrated in our prudent financial and investment practices, sustainable management policies and viable business progression, covering all three sustainable dimensions; Economics, Social and Environmental as well as responsibility for all stakeholders. We have always strived to promote transparency in our business conduct and aim to create consistent value to our business that in turn delivers credible and incremental returns to our shareholders in the long run.
"Our selection as a constituent member of the DJSI is a result of dedication and cooperation by all segments involved in the BTS Group helping to develop operational practices, which deeply take into account the BTS Group's impact on the economy, society, and environment, and seriously drive efforts to create tangible results.", added Mr. Kavin Kanjanapas.
Mr. Manjit Jus, Head of ESG Ratings, RobecoSAM: "I congratulate BTS Group Holdings PLC for being included in the Dow Jones Sustainability Emerging Markets Index. Companies that compete for a coveted place in the DJSI challenge themselves to continuously improve their sustainability practices and we are pleased to see that the number of companies that commit to achieving measurable positive impacts continues to rise."
The Dow Jones Sustainability Indices, or DJSI, are a family of indices evaluating the sustainability performance of corporations, broadly recognized worldwide. The indices are divided among industries, with assessment criteria focusing on economic, social, and environmental performance spanning more than 600 criteria. Evaluations are performed in parallel with analysis of financial performance. Every year more than 3,400 publicly listed companies with the highest market capitalizations from 60 industries worldwide are invited to take part in the corporate sustainability evaluation. Investment funds worldwide recognize and have adopted the DJSI for consideration when investing in companies and firms. In 2018, 20 listed companies from Thailand have been selected as DJSI members.