U City plans to extract value from synergies and partnerships and to develop its attractive land bank into value-accretive properties that generate recurring income. Within the coming years, U City expects to possess an increasingly diversified asset base to mitigate business cycles and may securitise assets to both recycle capital and unlock shareholder value.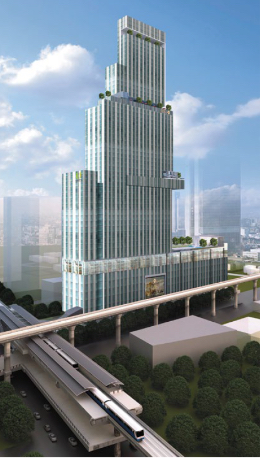 BTSG's overarching objective is to capture real estate opportunities predominantly in close proximity to, or directly connected with, future or existing mass transit lines to benefit from the "mass transit premium". Following the Entire Business Transfer of Unicorn Enterprises Company Limited (EBT of UE) to its listed associate company, U City Public Company Limited (U City), BTSG's direct activities in real estate are now limited to land acquisition. U City is now the designated property development and investment vehicle of BTSG.
U City is a global capital allocator, possessing a geographically and segmentally diversified real estate business. It is one of Thailand's leading listed hospitality players, with hotel and office properties in Europe Asia and the Middle East under various ownership models, and a Eurasian hotel management platform with proprietary brands that allows for flexible strategic expansion. A key strategy for U City is its openness to direct and indirect partnerships with leading companies to realise synergies or to access expertise.
U City participates in residential property development through its assumption of BTSG's 50% stake in the BTS-Sansiri joint venture with Sansiri Public Company Limited (Sansiri), a leading Thai developer, and seeks to develop condominiums near mass transit stations. U City has various projects under development in its pipeline including "The Unicorn", a seminally-located mixed-use building, "Verso", an international school through a joint-venture with a leading education services provider in Hong Kong and "Roi Chak Sam", a luxurious 5-star hotel in a colonial-era heritage building located along Chao Praya riverside.