The Group will continue to position itself to capture the growth in demand for Bangkok's commuting solutions both via organic growth from the increase in ridership, accommodating capacity increases as well as a thematic shift from "roads-to-rail" transportation by partaking in the Government plan to increase the size of Greater Bangkok's mass transit network to 515 km by 2029 or other rail-based concessions envisioned in Thailand.
BTSG focuses primarily on the Mass Transit business, which it operates via its majority-owned subsidiary, Bangkok Mass Transit System Public Co., Ltd. (BTSC). BTSC is the exclusive concessionaire and operator of the BTS SkyTrain Core Network, the Bus Rapid Transit system, the exclusive operator of certain extensions to the Core Network, the Gold Line and the future operator and lead partner of the Pink and Yellow monorail lines.
In April 2013, BTSC sold its rights to future net farebox revenues under its concession agreement with the Bangkok Metropolitan Administration to BTS Rail Mass Transit Growth Infrastructure Fund (BTSGIF). In spite of this, it remains the exclusive concessionaire and operator of the Core Network, as well as the largest economic stakeholder in revenues of the Core Network through holding one-third of all units of BTSGIF via BTSG.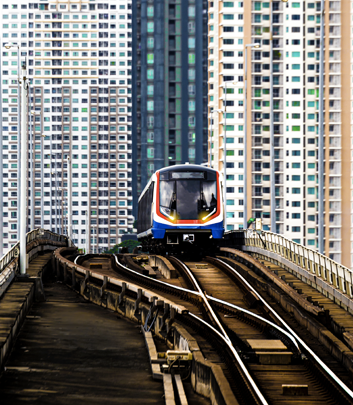 95.3km
of new rail mass transit lines
Subsequently, BTSG secured contracts for an additional 95.3km of new rail mass transit lines including the Northern and Southern Green Line extensions (from Mo Chit to Khu Khot and Bearing to Kheka, respectively) in March 2017, as well as the Pink Line (from Khae Rai to Min Buri) and the Yellow Line (from Lad Prao to Sam Rong) in June 2017. BTS's Network coverage will increase by approximately 2.5 times from its current size (53.9km) in the next two to three years when these lines become fully operational. Mass Transit revenue is expected to increase significantly.